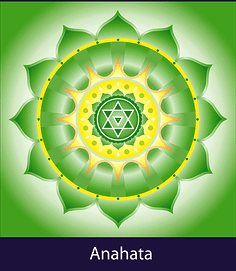 This is my composition based on improvisations inspired by the first chakra: Muladhara, the root chakra. Read here my woo woo story about how I got into the chakra energy stuff and why I composed the seven solo violin pieces inspired by the seven chakra's.
Anahata (click here to download the free sheet music)
Just some general Wiki info about this chakra, which can give you an idea about what should be the mood of the piece:
"Anahata, Anahata-puri, or padma-sundara is symbolised by a circular flower with twelve green petals called the heartmind. Within it is a yantra of two intersecting triangles, forming a hexagram, symbolizing a union of the male and female. The seed mantra is Yam, the presiding deity is Ishana Rudra Shiva, and the Shakti is Kakini.

Anartha is related to the thymus, located in the chest. The thymus is an element of the immune system as well as being part of the endocrine system. It is the site of maturation of the T cells responsible for fending off disease and may be adversely affected by stress. Anahata is related to the colours green or pink. Key issues involving Anahata involve complex emotions, compassion, tenderness, unconditional love, equilibrium, rejection and well-being. Physically Anahata governs circulation, emotionally it governs unconditional love for the self and others, mentally it governs passion, and spiritually it governs devotion.[38]

In Tibetan Buddhism, this centre is extremely important, as being the home of the indestructible red/white drop, which carries our consciousness to our next lives. It is described as being white, circular, with eight downward pointing petals, and the seed syllable Hum inside. During mantra recitation in the lower tantras, a flame is imagined inside of the heart, from which the mantra rings out. Within the higher tantras, this chakra is very important for realising the Clear Light."
Did you play this piece and did special things happen to you? Please share all the juicy details in the comments below.
Love,
Zlata
PS: Do you have questions for me on violin or viola playing? Post a comment below or send an e-mail to info@violinlounge.com