10 Most Famous Sad Violin Pieces
Sad violin music that will make you cry
Schindler's List, Tschaikovsky concerto, Barber's Adagio, Melodie from Orfeo and more
As the author Aldous Huxley once said, "After silence, that which comes closest to expressing the inexpressible is music." Mankind has been expressing powerful emotions through music for thousands of years, and often the most emotional music is the most memorable. Violin music is no exception. These ten famous violin pieces have stood the test of time and helped countless people find meaning in grief, loss, and suffering. For most of them I have free sheet music downloads for you.
#1 Theme from Schindler's List by John Williams
In less than four minutes, the theme from Schindler's List encapsulates one of the greatest human tragedies of all time. Although John Williams did not experience the Holocaust, his music conveys bleak hopelessness, but also the inherent meaning and purpose of human life. Few of us face sorrows as painful as the Jews' imprisonment, but his music helps all of us to find hope in our suffering.
#2 Canzonetta from Tchaikovsky's Violin Concerto
The two outer movements of this concerto are exceptionally famous and revered, but the middle movement shouldn't be overlooked either. Compared to the other movements it is surprisingly simple on the surface but no less moving. "Canzonetta" means a short, light vocal piece. Tchaikovsky's Canzonetta really does sound as though it was created for the human voice. The opening theme is hauntingly wistful, spilling over into a joyfully reminiscent melody. The climax of the short piece is dramatic but never quite comes to a final resolution, instead reverting to the sad opening melody.
#3 Samuel Barber's Adagio
Barber's Adagio has taken many forms. Originally, it was the second movement of his String Quartet in B Minor. Shortly after he arranged it for string orchestra under its famous title, Adagio for Strings. Now versions exist for many combinations of instruments, including solo violin. The long sustained lines and extended phrases make this a beautiful piece for practicing legato.
#4 Melodie from Orfeo et Euridice by Gluck/Kreisler
Orfeo ed Euridice is one of the saddest Greek tragedies, which Gluck turned into a very famous opera. The opera opens with Orfeo mourning the sudden death of his beautiful wife Euridice. The god of love takes pity on him and gives him permission to travel to Hades and bring her back to life, but on one condition: he cannot look at her face until they have reached the land of the living. As they ascend from the underworld, Euridice cannot understand why Orfeo will not look at her, and begs him to do so. Her pleas are too much for Orfeo, and just before they reach the top of the tunnel he turns around. Instantly Euridice is lost to him. In Gluck's opera version (but not the original story), Cupid has pity on Orfeo and returns his wife to him as a reward for his love.
#5 Adagio from Bach's Solo Violin Sonata No. 1
Similarly to Orfeo, J.S. Bach also experienced great tragedy when his first wife, Maria Barbara, died unexpectedly in 1720. This is the same time Bach began writing his famous solo violin sonatas. Sonata No. 1 in G Minor is a beautiful expression of loss, reflection, and healing. The 1st movement, Adagio, is particularly moving and shows Bach's introspective character.
#6 Nocturne by Lili Boulanger
Composed in 1911 by an 18-year-old Lili Boulanger, this hidden gem is starting to be more widely appreciated. It exhibits very strong influences from French impressionists like Claude Debussy (see if you can catch a moment in the piano that sounds exactly like Afternoon of a Fawn). This piece is not tragic, but it is definitely nostalgic. It is perhaps foreshadowing also, when you learn that Lili died only six years later.
#7 Romance No. 2 in F Major by Beethoven
One of Beethoven's easier pieces for solo violin, it is nonetheless packed with emotion and drama. It begins simply with a pastoral theme. In the B section, conflict arises. Before it gets to intense, Beethoven deftly slides back into the original melody. Although there are definitely undertones of grief and difficulties, the music is ultimately hopeful.
#8 Chaconne by J.S. Bach
It is difficult to describe this piece in only a paragraph. Some musical scholars view it as the revelation of Bach's deepest emotions, sufferings and joys, and the most intentionally profound piece ever written. Others shun the idea that Bach could have been so romantic, countering that he composed it only out of a sense of religious and civil duty. However, this monumental work is so compelling an extraordinary that it is difficult to see it merely as one of Bach's work requirements. He clearly poured everything he knew into this piece. Brahms described it well in a letter to Clara Schumann: "On one stave, for a small instrument, the man writes a whole world of the deepest thoughts and most powerful feelings. If I imagined that I could have created, even conceived the piece, I am quite certain that the excess of excitement and earth-shattering experience would have driven me out of my mind."
#9 Méditation de Thaïs by Jules Massenet
This is the most memorable part of the otherwise little-known opera Thaȉs by Jules Massanet. Set during the rule of the Roman Empire over Egypt, the opera follows two seemingly opposite characters: the ravishingly beautiful pagan cortesan Thaȉs, and the Christian monk who seeks to convince her to reform her life. At first Thaȉs scoffs at him, but after awhile she begins to realize that her reckless life of pleasure is empty and unfulfilling. After a long moment of reflection (cue the violin soloist) she agrees to follow the monk into the desert despite anger and disdain from her former friends.
Meditation is one of the few moments in opera where the turning point of the story does not appear in a dramatic aria or action-packed scene, but in the eloquent reflections of a single instrument.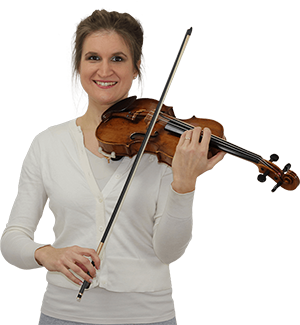 Hi! I'm Zlata
Classical violinist helping you overcome technical struggles and play with feeling by improving your bow technique.
#10 Danny Boy
This beloved poem was one of the most popular folk songs of the early twentieth century. There are many different stories regarding is origins, but the lyrics were most likely written by the English lawyer Frederic Weatherly and set to the tune Londonderry Air. Danny Boy was popularized by the famous english soprano Elsie Griffin, who entertained troops during WWI. There are now arrangements of Danny Boy for many ensembles and instruments, including solo violin. The soulful melody and sincere lyrics preserve this folk song as one of the most enduring.