A Little Violin and Viola Study Secret Based on the 80/20 Rule
Have you also heard so many tales about that you have to study many hours a day to be able to play the violin or viola beautifully?
Using the 80/20 rule for studying the violin/viola
If you want to become a good violist, you have to spend time studying it. But most people don't have time to study the violin hours a day, because the day-to-day life goes on. This is completely logical. But how will you still be able to play the violin beautifully? This can be done by using the 80/20 rule. This rule states the following:
"With 20 percent of the effort, you can get 80 percent of the results"
This is also applicable to playing the violin. If you don't want to become a professional, but a good amateur violist, you can use this rule. For example: a professional violist plays 3-5 hours a day. If you want to make 20 percent of the effort, it means you have to play one hour a day. If you follow this little secret, you will be able to still get very nice results.
PS: Do you want to see YOUR question answered in a Violin Lounge TV episode? Post a comment below!
Love,
Zlata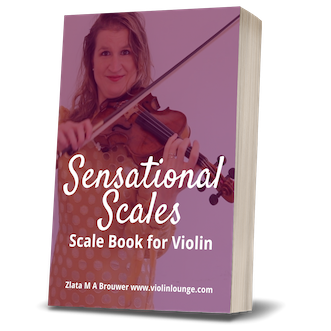 Sensational Scales is a 85 page violin scale book that goes from simple beginner scales with finger charts all the way to all three octave scales and arpeggios