5 Things I Wish I Knew before Starting the Violin (story time) | Violin Lounge TV #416
Probably I would be a better violinist if I knew these things when learning the violin
Learn from my stories and regrets:
When you do these things right as you start playing the violin, you'll save a LOT of pain and frustration:
#1 Learning mindset vs fixed mindset
I've spent too much time comparing myself to others who were better or more experienced in violin playing. Run your own race. Approach everything with curiosity. When you can't do something yet, don't judge yourself or think you lack talent. Instead just wonder 'how can I learn this?'.
#2 Learn to play by ear, by heart and improvise
Sometimes just play for fun. Don't stick to your sheet music too much, although it's also important to become a good reader. Don't try to play properly all the time.
#3 Practice with metronome
If you learn to practice with a metronome right when you start playing the violin, you'll benefit a lot more from it. I started too late and for me the metronome has always been a friend and an enemy. It feels forced and unnatural: the rhythm comes from the outside when I practice with a metronome, although it does help me to clean up my rhythm. When you start earlier on, playing with a metronome will feel more natural.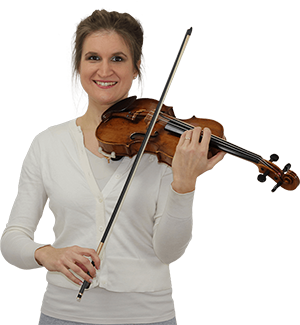 Hi! I'm Zlata
Classical violinist helping you overcome technical struggles and play with feeling by improving your bow technique.
#4 Find a good teacher
In my violin journey, two teachers really ruined my confidence and cost me years of progress. Listen to my story in the video above.
#5 Flexible pinkies!
So easy to skip when you begin learning the violin and so hard to correct at a later stage. I show you the difference in the video above.
#6 Drop your stories about what a 'real violinist' should do
I stayed way to long in orchestra jobs and teaching positions that drained or bored me. Only in the last few years I've found a fulfilling career as a violinist. Choose what inspires you!
You need to make mistakes to make progress
Nobody can do everything right from the start. Don't let that frustrate you. See your mistakes as learning opportunities. All our journeys are different. Focus on your own progress. Become a better violinist than you were yesterday!
What's a thing you wish you knew when you started playing the violin?
Share it in the comments below! It might just make a big difference for a fellow violin learner.