4 Tips on Bach's Gavotte and Rondeau
4 Tips on Bach's Gavotte and Rondeau
Another question that I am happy to answer: Hi Zlata, I enjoy your violin education clips on YouTube. Will you please take a look at my playing and give me some critique? Thank you!
I see that you attached a link to a video of you playing "Gavotte and Rondeau" from Johan Sebastian Bach's 3rd partita BWV 1006. You do very well in this clip! You play it very well, but you asked me for some tips so will give you four tips and also a performance video on YouTube that I like very much. I have played the partita a long time ago. I have mainly played the first and the second.
Tip 1
The first one is the intonation. In Bach's partitas the intonation is always very open. So definitely play positions and play in gordge, just take a look at it to make the sound even better.
Tip 2
What I can see a lot when people are playing Bach, is that you can really see that it is difficult. It is a difficult piece anyway so it is not a shame if it looks difficult. But the partita is a suite of dances the Gavotte was a dance and what I like in performance videos is if it is played like dance music. It must be light and playful. I will show you an example of Gidon Kremer playing this piece. I mention his performance as a source of inspiration. Watch it and let me know what you think! If it is an inspiration for you. Of course they are stylish dances it is not intended to be dance music but maybe you could keep it in your head while playing that it must be light and simple. 
Tip 3
My third tip is do not stop the notes. If you look at the performance that is on this page, there is also a performance of Hillary Han on YouTube, what you see there is that they really project the sounds. That all the sounds really are coming together in the air. So you still hear the one tone while the other is also sounding. So try to do that with maybe a bit smoother bowing so that the sound does not stop when your tone stops so the sound keeps resonating.
Tip 4
I see that you are bowing a lot at the tip. For the sound it gives the idea that you are out of breath. Perhaps you could go a little bit more to the middle maybe you could change some bowings. Don't be afraid to do so. If you look at some videos for example the one from Gidon Kremer or maybe some other people, you get some inspiration from bowings and can see that you do not have to bow at the tip the whole time. Also your upbows are quite short and at the tip and they do not create a lot of sound. In the baroque area they were mostly bowing at the middle or the frog. Maybe you could take a little look on that.
Is this video useful to you? What are your experiences playing Bach partita's? What is your favorite performance? Please let me know in the comments!
Love,
Zlata
PS: Do you want to see YOUR question answered in a Violin Lounge TV episode? Post a comment below!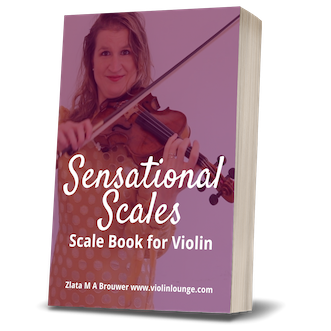 Sensational Scales is a 85 page violin scale book that goes from simple beginner scales with finger charts all the way to all three octave scales and arpeggios