Zlata's carbon fiber viola bow
Improve your bowing technique and tone creation with a good quality bow
CLEARANCE SALE
Get this beautiful viola bow for
$ 297

$ 197!
*the button will send you directly to Paypal
Beautiful

 high quality carbon fiber viola bow
The stick is made out of 60% carbon fiber ensuring a beautiful sound and great handling.
The bow has a snakewood frog with silver mounting, a weaved stick, genuine horsehair and weighs only 70 grams.
In comparison: cheap carbon bows contain almost only epoxy and just a little (25%) carbon.
Combining modern, strong, state-of-the-art materials with traditional handcraft,
these bows are as impressive and beautiful to look at as they are to play.
Agile handling, arrow-straight tracking and full tonal power are hallmarks of these fine bows.
Decidedly stunning in appearance due to the open weave carbon cloth, these bows are far better suited for severe performance conditions than wood bows, including pernambuco. And, as the world's supply of expensive pernambuco wood disappears, Zlata's carbon fiber bows deliver more performance for your dollar than any fine bow on the market today.
Zlata's bows are only made with aerospace-grade fibers and resins. The engineering process guarantees longevity by eliminating "creep," a flaw in carbon-fiber manufacture that can warp a bow or diminish camber over time.
Most importantly all bows are thoroughly inspected by the bow makers, meaning only bows with the best craftsmanship are sent to our customers.
Light
Fluent and smooth bowing will be SO much easier with this bows… just as advanced bowing techniques like spiccato.
Beautiful Sound
A clear and full sound will come from your violin. Can a bow make a difference like this? Yes!
Strong & Durable
Absolutely foolproof! You'll enjoy this baby for many years to come.
Environmental friendly
No protected trees are chopped down for this bow!
I got the bow today and it is SO wonderful! Before using the Zlata bow I was always struggling with the scratchy sounds on long notes or while playing legato… Now it appears it wasn't my problem, but it was that cheap bow I used until today 😂. You've done a great job with this bow. Thank you very much, I'm really happy! 😁The bow is really beautiful and something special!
Dear Zlata, I received my bow today in good shape. I only have had one opportunity to play with it but I really love it. It glides on the strings and is so light. The sound it puts out is so clear and beautiful. I am a self taught intermediate player and I was afraid buying this might be indulgent but with over a decade of playing, and struggling a lot,I figured I would treat myself. What a treat it was! I feel like I won't have to work so hard now and will be able to concentrate on other aspects of my playing. Thank you again,
Thank you very much Zlata! The bow arrived today. It's beautifully made and very light. At first I was having buyers remorse and wondering what i would do if the bow wasn't up to par. But i was pleasantly surprised. I'm glad i purchased this bow. It's the best bow i've had and even like it better than the coda bow prodigy i purchased a few years ago. I'm glad i bought this bow and i enjoy your videos very much.
Hey Zlata, I received the Zlata bow after my lesson today. I am always amazed how quickly things get to my door here in Brooklyn, New York all the way from your shop in Holland.
I can't believe how much better the Zlata bow feels and plays. It seems more effortless, more smooth moving across the strings. It is really a true upgrade! Thank you Kenneth Gill
Zlata, What a difference a bow makes!  A friend of mine knew that I was thinking about investing in a carbon fiber bow and was good enough to let me test out the one he had just received from you, at a very competitive cost. I was so impressed by the instant improvement in my sound, and the superior stability and control of the bow that I ordered my own that very night! I feel I'm already a much stronger player thanks to this boost in sound quality and confidence. Thank you!
Together with the bow, you get this awesome gift to improve your violin playing: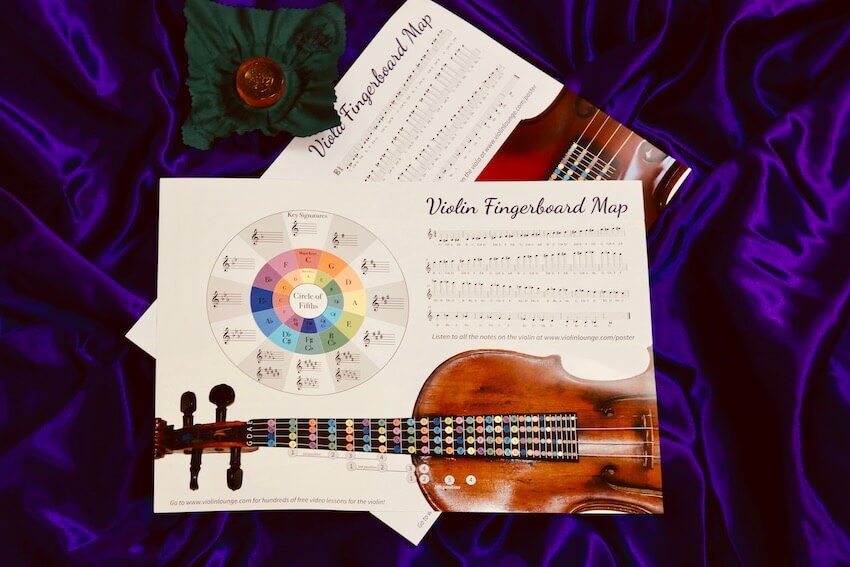 Viola Fingerboard Map worth $ 19
You'll receive the Viola Fingerboard Map for free! It's a poster with the exact spots of ALL notes on the viola. Also you'll receive a link to a tutorial video on how to use the poster to learn to play in tune on the viola! We don't sell it separately, but you get it for FREE with your bow.