Thank you for visiting Violin Lounge!
I've got two gifts for you…
The first gift from me for you is the workshop entitled 'Weight vs Pressure'.
This is what I will teach you in this workshop:
The secrets of the effortless playing by the pro's
How YOU can play effortless and comfortable with a beautiful tone that can touch people's soul
My little method… the 'Weight vs Pressure Violinist Bodyscan' which you can do yourself after attending this workshop
How you can play as long as you like without pain
This workshop will ask about 30 minutes of your time and I think it will be really worth it.
Today I was finally able to watch your video on Weight vs Pressure. It is wonderful! It reminded me of some of your points during our Skype lesson. There were also things we didn't cover at our lesson, like how the upper bow arm is used for string crossing.

WOW! This information made my work much easier in the Kreisler Pugnani today. I also love the quote from Galamian and the statement that our movements should be as little and light as possible.

You gave so much valuable teaching in a very short time! I am grateful to you. I was a little confused about the violin elbow being a little to the left in high positions. I will try this with my scale work and see how it goes.

– Kathleen, one of Zlata's Skype students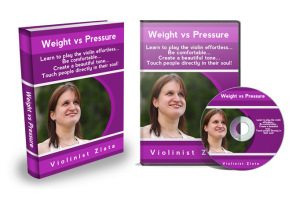 This free workshop 'Weight vs Pressure' includes:
Video presentation by me, violinist Zlata
44 (!) Page workshop binder that you can use as a valuable reference for years
Demonstration video's
Quotes that you will never forget
Assignments that will help you to implement what I teach
Weight vs Pressure Violinist Bodyscan that you can do yourself
My second gift for you is my free weekly ezine with violin tips and tutorials to help you improve your playing with joy and learn you how to play the violin or the viola with body, mind and spirit.
How does applying to the workshop Weight vs Pressure work? After filling out the above form and clicking on the subscribe button, you will receive an e-mail in your inbox with the request to confirm. If you can't see this e-mail, please check your spam or promotions folder. If you haven't received it, please send an e-mail to info@violinlounge.com and I will solve the issue for you.
It's very important to confirm, because without confirmation I am not allowed to send you the log in details for the workshop. After conforming you will receive an e-mail that you have confirmed.
Within one hour after confirmation you will receive a separate e-mail with some instructions to access the workshop. You will get a link to the workshop page (with the video and the binder) and a password to access this page. Now you can enjoy the workshop!
I really want everybody to be able to enjoy this workshop. Could you please let me know if something doesn't work properly? This makes it possible for me to serve you in the best way I can. Thank you!